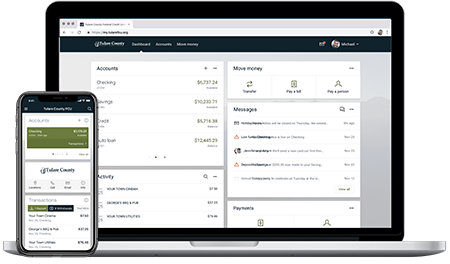 Seamless, Fast, Forward-Thinking — Online Banking
New, modern tools mean you have the information you need and the means to take action from any device, anywhere.
View balance: Quickly check your account from anywhere.
Manage transactions: Search your recent activity, filter by tags, even add an image or note to an entry.
Account Transfers: Transfer from or to other financial institutions.
Get custom alerts: Receive push notifications and alerts to stay in the know.
Document access: Access to eStatements, documents and notices.
Deposit checks: Snap a photo to deposit any check.
Card management: Instantly turn a card OFF if it's lost or stolen.
Mobile banking anytime, anywhere
Improved experience from top to bottom
Transfers: Easily transfer money between your Tulare Federal accounts and connected institutions.
Remote Deposit Anywhere: Deposit checks directly from your mobile app.
Person-to-Person: Pay anyone electronically.
Real, Human Chat: Get support chat from your app with a real Tulare Federal staff member.
Download Now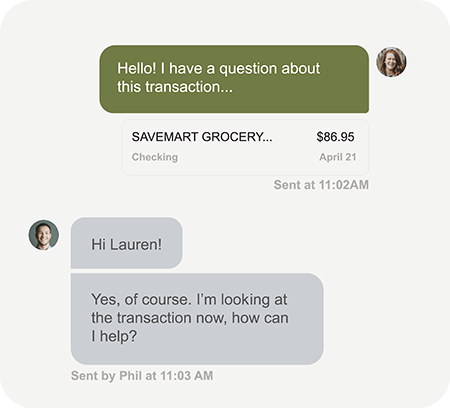 Real Meaningful Conversations With a Human
The same trusted Tulare Federal service from your keyboard
Secure Conversations: Request and receive account support directly from your online banking account.
Conversational Transactions: You can make transactions directly through support chat.
Secure documents: Share important documents securely through support chat.
Make Payments the Way You'd Expect to Today
An easier, faster, and more convenient way to pay your bill on all devices
Bill Payments: Pay bills from multiple accounts – Set-up single payments or recurring.
eBill: Receive and pay bills directly from your online Bill Pay account.
Person-to-Person: Pay anyone electronically.
Gift Payments: Send a gift check or charitable donation.
Account Alerts
Stay in-the-know
Transaction Alerts: Allow you to set up a notification for deposits or withdrawals on your account. This is a great way to get notified of your next stimulus check - without logging in to your account.
Balance Alerts: Allow you to set up alerts when your account is above or below your desired amount. These alerts can come in handy and may help prevent overdraft fees.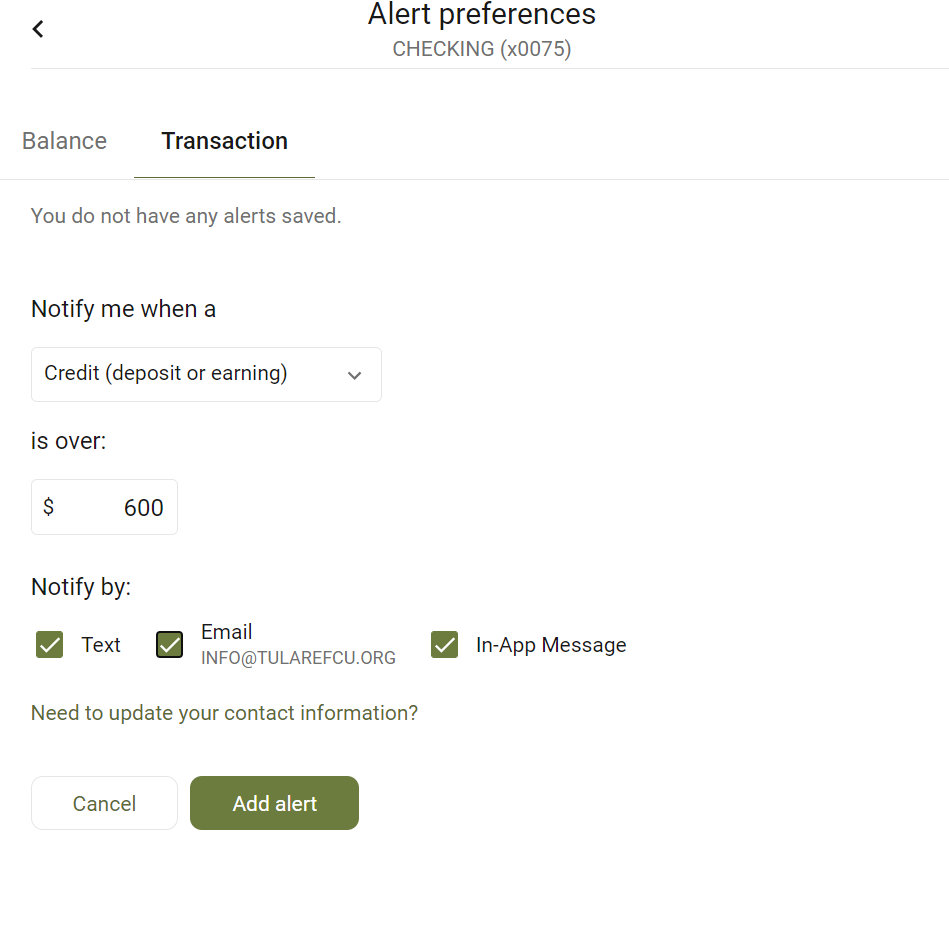 Logging in to online banking with an existing username
If your old online banking username started with a letter, you may continue to log in with your username and temporary password: Tcfcu+ (the first five digits of your social security number). For example: If your social security number is 123456789 your new password will be Tcfcu12345. See the video above for instructions.
New users and existing usernames that start with a number
If you are a new digital banking user or your old user name began with a number, you will have to use the First-time user option. Watch the video above for instructions.